Abstracts from previous Colorado Scientific Society talks.
Colorado Scientific Society Talks from 2008, indexed by author, subject, and date. Earlier years are being added.
For all CSS Talks after 1994 by Year, see below
This access to the talks is by year.
Click on any year below to view abstracts from that year.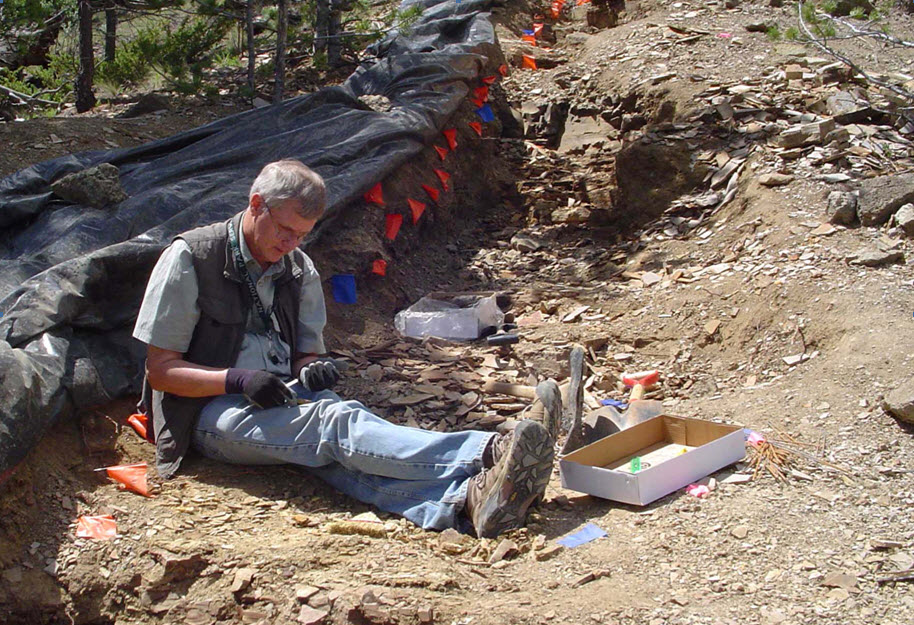 Abstracts for Colorado Scientific Society talks after 1994 are archived below.
Click on any year to view the abstracts for that year.
---
January
The Colorado Scientific Society January meeting was rescheduled to April, as the speakers could not access their presentations because of the government shutdown.
February
Geology and Mining History of the Beulah Marble Deposit
Ken Balleweg, Exploration Geologist
Geographies Unrealized, The Story of Four Cartographic Myths of North America
Donald L. McGuirk, Rocky Mountain Map Society
March
A Cook's Tour of Colorado's Glacial Landscape
Dr. Vince Matthews, Leadville Geology
April
Kilauea's 2018 Eruption – New methods and perspectives for monitoring volcanic eruptions
Don Becker, USGS, and Jeff Sloan, USGS
---
January
Fostering Citizen Scientists in the Remote Reaches of Colorado
Elizabeth 'Liz' Johnson, Colorado Northwestern Community College, Craig, CO
Science With a Social Conscience: A Natural Outgrowth of Fieldwork in Remote Regions of the World
David Krause, Denver Museum of Nature and Science
February
In the Footsteps of Darwin
Rob Wesson, USGS Scientist Emeritus
How the 1859 gold rush put Colorado on the Map
Wesley Brown
March
Challenges in Providing Real-time Earthquake Shaking and Impacts Estimates
David Wald, USGS, National Earthquake Information Center, and Adjunct Associate Professor of Geophysics, Colorado School of Mines
April – Colorado Scientific Society 2018 Past Presidents Dinner
Colorado's Amazing Dinosaurs: A History of Discoveries from the Centennial State
Joe Sertich, Denver Museum of Nature and Science
April
The present and future of the Colorado Geological Survey
Karen Berry, Director and State Geologist, Colorado Geological Survey
Geological studies at the USGS in Denver: Where are we now and where are we headed?
Eugene (Buddy) Schweig, Director, Center for Geosciences and Environmental Change, U.S. Geological Survey, Lakewood, CO
May, Emmons Lecture
From Snowball Earth to the Paleocene-Eocene Thermal Maximum: Lessons Learned from Earth System Extremes
Will Clyde, University of New Hampshire
September, Poster Session by CSS Members and Short Talks by Students
The effects of geological structure and clay on landslides in the Teklanika Formation in Denali National Park and Preserve, Alaska,
– Michael Frothingham, PhD student, CU Boulder
Insight into incipient motion of blocks on a river bed from Computation Fluid Dynamics modeling,
– Aaron Hurst, PhD student, CU Boulder
Seasonality of a Sub-Alpine Lake: Understanding evolving physical and biogeochemical controls on aquatic ecosystem structure under ice cover. Rocky Mountain National Park, Colorado USA,
– Garrett Rue, PhD Candidate, CU Boulder
The role of flashing in the formation of high-grade, low-sulfidation epithermal deposits: a case study from the Omu Camp in Hokkaido, Japan,
– Lauren Zeeck, MS Candidate, Colorado School of Mines
October
Structural Geology across Colorado
– Ned Sterne, an independent professional geologist
November
Geothermal Energy
– Jeff Winick, Geothermal Consultant
Geothermal Energy Potential of Colorado
– Jen Livermore, Consulting Geothermal Engineer
December
Cities, and a World, at Risk
– Bob Raynolds, Denver Museum of Nature and Science and CSS outgoing President
with Dr. KaChun Yu, DMNS Space Science Curator using the Gates Planetarium to present this global story
---
January
An Arctic Perspective on 20th Century Warming
by Dr. Gifford Miller, INSTAAR and Geological Sciences, University of Colorado, Boulder
February
Landscape Evolution of Colorado
Late Neogene Tectonic and Volcanic Fragmentation and Middle Pleistocene Climate-Driven Drainage Integration of the Southern Rocky Mountains
by Cal Ruleman, Geology and Environmental Change, USGS
March
The Far-Reaching Effects of Wastewater Injection: Recent Case Studies of Anthropogenic Earthquakes
by Will Yeck, National Earthquake Information Center, USGS
April
Simple, Serious, and Solvable: The Three S's of Climate Change
by Scott Denning, Atmospheric Sciences, Colorado State University
May
Too Warm, Two Poles: How Past Interglacials Should Inform Future Coastal Policy
by Julie Brigham-Grette, University of Massachusetts- Amherst
September
Student Paper Night
October
Using Geoscience to Augment Environmental Public Health Studies
Suzette Morman, Crustal Imaging and Characterization, USGS
November
Earth's Earliest Evolution: Fire from above, fire from below
Simone Marchi, Southwest Research Institute, Boulder
December
DUST! Why Should You Care? (the answer is blowing in the wind)
Marith Reheis, Emeritus USGS
---
January
Colorado's stratigraphy: eloquent testimony to Earth's history
by Robert G. Raynolds and James W. Hagadorn, Department of Earth Sciences, Denver Museum of Nature & Science
February
The Weird and Wonderful Geology of Pluto and its Moons
by John Spencer, Southwest Research Institute, Boulder CO
March
New Hominid Discoveries from South Africa, the 'Cradle of Humankind': The Anthropological Significance, the Cave Geology, and How Google Earth Contributed to the Discovery.
by Charles Musiba, University of Colorado-Denver
April
Tempest at Teapot Dome, Wyoming: the Greatest Political Scandal in the History of the American Oil Industry
by Matt Silverman, Exploration Manager at Robert L. Bayless, Producer
and
The Society's 2016 annual S.F. Emmons Lecture, The Quest for the Only Known Natural Quasi-crystal
by Dr. Lincoln Hollister, Princeton University, Professor Emeritus.
May
Older than the hills: The ca. 3920-3960 Ma Acasta Gneiss (Northwest Territories, Canada)
by Stephen Mojzsis, Professor of Geology, and Director, Collaborative for Research in Origins (CRiO), Department of Geological Sciences, University of Colorado, Boulder
September
Student Night Participants and Presentations
October
Climate Change, Part I, A Geologist's View, by William W. Little, Professor of Geology, Brigham Young University-Idaho, Rexburg, Idaho
Climate Change, Part 2, Models, Uncertainty, Data, and Predictions – or "Why Climate Models are Like Sausages" by Thomas R. Fisher, PhD ABD, Evergreen, Colorado USA
November
Relict Dinosaurs of Madagascar: New Discoveries from Treasure Island
by Dr. Joe Sertich, Ph.D., Curator of Vertebrate Paleontology, of terrestrial ecosystems during the Mesozoic) Denver Museum of Nature & Science
December
President's Address: South Park: Recent investigations by the Colorado Geological Survey carry on a legacy of geologic mapping in a fascinating setting
by Peter Barkmann, Colorado Geological Survey
---
January
The May 2014 West Salt Creek landslide in Mesa County, Colorado
by Jonathan L. White, Senior Engineering Geologist, Colorado Geological Survey
February
MOANA and HOBITSS Ocean Bottom Seismic Experiments: Information on Deep Structure, Anisotropy, and Slow Slip beneath New Zealand
by Dr. Anne Sheehan, Professor of Geophysics, University of Colorado, Boulder
March
A 30-minute video: the C.H. Birdseye USGS surveying expedition down the length of the Grand Canyon, Aug 1 – Oct. 19, 1923
and
Documenting changes in the landscape and glaciers of Glacier Bay National Park by recreating historical photography
both presented by: Don Becker, Video Producer & Archive Manager, U.S. Geological Survey, Lakewood, CO
April
The Search for Earth-like Planets
Dr. Tom Barclay, NASA Ames Research Center and the Bay Area Environmental Research Institute, California
September
The development of the Rio Grande rift between 25-10 Ma based on low temperature thermochronology
by Shari Kelley, New Mexico Bureau of Geology and Mineral Resources, New Mexico Tech, Socorro, NM
October
Field Methods Past and Present
by Jim Reed, Director of Research and Development, Rockware Incorporated.
November
The variability of hydrothermal ore deposits in the North American Cordilleran orogenic belt – insights into metallogeny from ore fluid analysis
by John Ridley, Department of Geosciences, Colorado State University, Fort Collins, CO
December
Presidential address:  Heat Flow, Then and Now, Here and There
by Paul Morgan, Colorado Geological Survey
---
January
Correcting Ice Sheet Mass Balance for Refreezing of Infiltrated Surface Melt:  The Forgotten Grand Problem
by W. Tad Pfeffer
February
Evaluating the History of Vadose-Water Flow Through Yucca Mountain, Nevada, Using Secondary Hydrogenic Minerals – A Case for Slow and Steady
by James B. Paces, Ph.D.: USGS, Geoscience and Environmental Change Science Center, Denver, CO
March
Regional Analysis of Flood Hazards Along the Colorado Front Range
by John Pitlick, Profesor of Geography, University of Colorado, Boulder
April
The Mid-Wisconsin Human Colonization of North America:  A Call for Archaeological Investigations in Older Geological Deposits
by Steven R. Holen and Kathleen Holen, Center for American Paleolithic Research, Fort Collins, CO
September
In the Footsteps of the Early Bone Diggers: Locating Historic Photographic Sites in the Bridger Basin of Southwest Wyoming
by Emmett Evanoff, University of Northern Colorado
October
Student Night Participants and Presentations
Comparison of Economic Risk from Post-Wildfire Debris Flows at Three Sites in the Western United States
Kevin McCoy, Department of Geology and Geological Engineering, Colorado School of Mines
Changes in Morphology In and Around the North St. Vrain River Due to the September, 2013 Flood
Linda Glickstein, Department of Earth Sciences, University of Northern Colorado
A Landslide Risk Evaluation and Reduction Matrix for Lower Income Communities in Guatemala City
Ethan J. Faber, Department of Geology and Geological Engineering, Colorado School of Mines
Lava Lake Thermal Pattern Classification Using Self-Organizing Maps and Relationships to Eruption Processes at Kilauea Volcano, Hawaii
Amy M. Burzynski, Department of Earth Sciences, University of Northern Colorado
Geology of the North Amethyst Au-Ag Epithermal Deposit, Creede District, Colorado
Mario Guzman, Department of Geology and Geological Engineering, Colorado School of Mines,
Using Geochemical Indicators to Distinguish High Biogeochemical Activity in Sediments
Amy M. Kenwell, Department of Geology and Geological Engineering, Colorado School of Mines
November
20 Years After: A Brief Update on the Study of Telluride Minerals and Deposits
by Bruce Geller, Director of the Colorado School of Mines Museum
December
Continental glaciation: some remarkable impacts on the geomorphic and geologic record
by Scott Lundstrom, U.S. Geological Survey, 2014 CSS President
---
2013
2012
2011
2010
2009
2008
2007
2006
2005
2004
2003
2002
2001
2000
1999
1998
1997
1996
1995