Colorado Scientific Society 2017 Past Presidents Dinner & Program
Manya – A visit with Marie Curie
Wednesday, May 10, 2017
Mt. Vernon Country Club
24933 Clubhouse Circle
Golden, CO 80401
on Lookout Mountain
Social Hour 5:00 pm
Dinner 6:00 pm
Program 7:00 pm
We cordially invite you, along with your spouse and guests, to join us for a special celebration of the Society's 135th Anniversary Past Presidents Dinner and Program.
This is an evening to honor the Past Presidents of our Society, to show appreciation for our members, and to enjoy an opportunity to get together with our friends and colleagues.
This year we are presenting a special program – a performance on the life and science of Marie Curie. See the flyer below for a full description.
Please RSVP your menu choices on the form for either members or non-members attached below.
If members need transportation, please tell us so we can arrange it.
---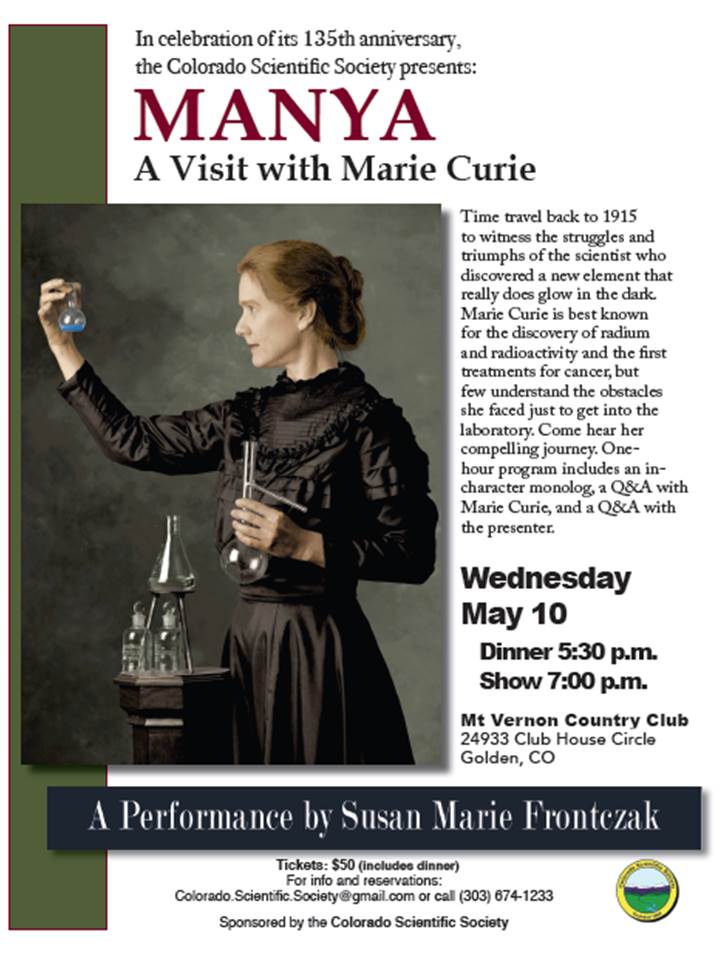 The dinner menu is:
Past Presidents Dinner Menu
Make for dinner reservations for Colorado Scientific Society members and their guests with this form:
Past Presidents Dinner Reservation for Members and their guests
Make dinner reservations for non-members with this form:
Past Presidents Dinner Reservation for Non-members