Geologic Wonders of the Hart(sel) of South Park
Sunday, June 25 with a Saturday evening excursion, June 24
Led by Peter Barkmann, Colorado Geological Survey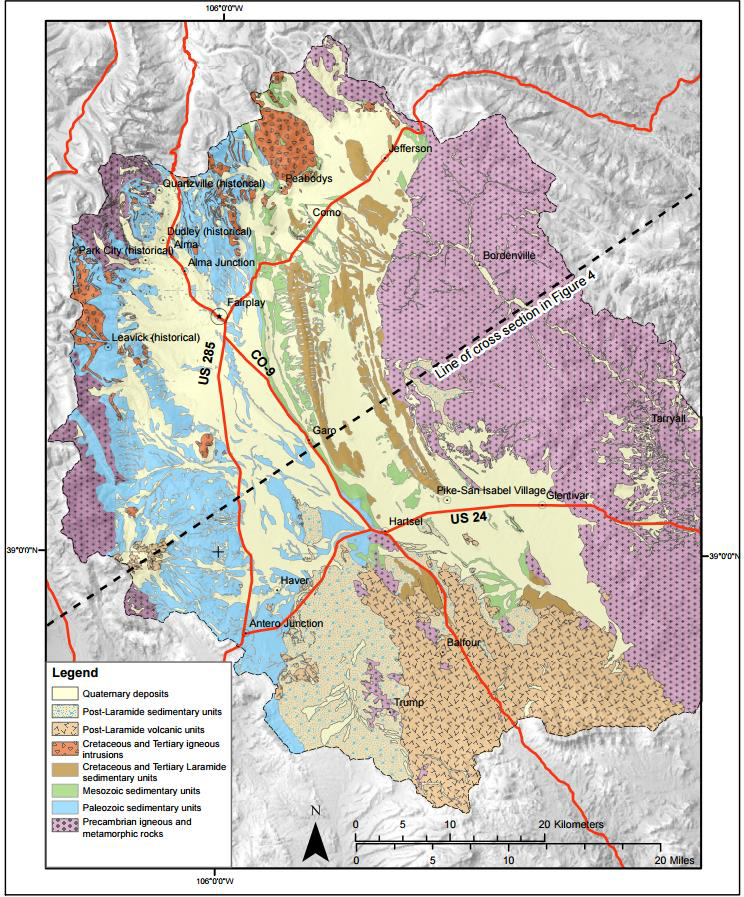 This field trip will explore the wonders of the Hartsel area starting with a look at the Precambrian granodiorite and its cross-cutting pegmatite sheets.  We will move up to see the onlap of the Late Paleozoic central Colorado trough sediments onto the ancestral Front Range highland and the Garo Sandstone healing cover.  Our transect will then look at the Laramide synorogenic South Park Formation with its complex stratigraphic story.  Last but not least is the Neogene transformation from compression to extension with a fascinating story of Neogene tectonic closure of intermontane fluvial systems and progressive integration and incision driven by middle to late Pleistocene glacial episodes.
Sunday will entail an all-day trek around Hartsel to visit 10 to 12 sites.  Most will require minimal off road scrambling, but be prepared if you think you may want to climb up to have better views!
There is an overnight option to stay at the historic Hartsel Springs Ranch about 2 miles east of town at the confluence of the South and Middle Forks South Platte River.  Limited rooms are available within the lodge, so contact us as soon as possible if you are interested in this lodging option.  Otherwise, camping/shower facilities are available on site of the ranch for $10 and hotel rooms are available in Fairplay, of which a group rate with be determined based on number of attendees desiring this lodging option.  Saturday night could open up for a communal dinner, map displays, and deep geologic discussions. Please let us know as soon as possible if you are interested.
We will meet in Hartsel Sunday morning at an exact place and time to be determined based on attendance; the CSS Field Trip Chair, Cal Ruleman, will communicate the details to everyone who signs up.
Contact Cal Ruleman to register and choose lodging option
cruleman@usgs.gov, 303-859-0911
---
CSS Flat Tops/White River Plateau Field Trip,
August 25-26
Led by James Hagadorn, Denver Museum of Nature and Science
Emphasizing the Devonian in Colorado and its extinction events.  We will be sending more info about this trip as the summer progresses–but if you are interested, you may send am "I'm interested, please be sure to keep me informed" email to Cal Ruleman.
cruleman@usgs.gov