Welcome to the Colorado Scientific Society
The oldest scientific society in the Rocky Mountain region
Founded in 1882, the Colorado Scientific Society promotes knowledge, the understanding of science, and its application to human needs, focusing primarily on earth science, but welcoming members with interests in all fields of science. Learn more.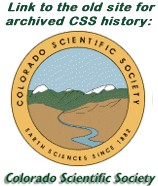 ---
Join Colorado Scientific Society at the March for Science in Denver
Saturday, April 22, 2017
---
Colorado Scientific Society Past Presidents Dinner, Wednesday, May 10, 2017
Manya, A Visit with Marie Curie; a reenactment by Susan Marie Frontczak
Dinner at 5:30 pm and Show at 7:00 pm
at the Mount Vernon Country Club, 24933 Club House Circle, Golden, CO
---
May Meeting (Emmons Lecture), Thursday, May 18, 2017
Too Warm, Two Poles: How Past Interglacials Should Inform Future Coastal Policy
Julie Brigham-Grette, University of Massachusetts- Amherst
7:00 pm, at the American Mountaineering Center Auditorium, 710 10th St., Golden.
No charge and all are welcome.
---
We usually meet at The Shepherd of the Hills Presbyterian Church, 11500 W. 20th Ave., Lakewood CO
Social time beginning at 6:30; meeting & program at 7:00
Map for Shepherd of the Hills
---