Welcome to the Colorado Scientific Society
The oldest scientific society in the Rocky Mountain region
Founded in 1882, the Colorado Scientific Society promotes knowledge, the understanding of science, and its application to human needs, focusing primarily on earth science, and welcoming members with interests in all fields of science. Learn more.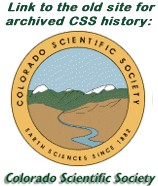 ---
Future Colorado Scientific Society Meetings and Field Trips
Thursday, September 20, 2018
Student Presentations
This is our annual meeting with presentations by students.
---
Mid- to Late-September, 2018; CSS Fall Field Trip
Geology of the Upper Arkansas Valley
Cal Ruleman (USGS) and Karl Kellogg (USGS, Emeritus)
---
Thursday, October 18, 2018
Structural Geology of Colorado
Ned Sterne
plus another talk that is not confirmed yet
---
Thursday, November 15, 2018
Department of Energy – Thoughts on Geothermal Energy
Jeff Winick
plus another talk that is not confirmed yet
---
Thursday, December 13(?), 2018
Presidents Talk: Cities at Risk
Bob Raynolds, Denver Museum of Nature and Science
---
March for Science, April 14, and Vote for Science
The Colorado Scientific Society took part in the March for Science in downtown Denver again this year on April 14, 2018. We had a table at the Denver Civic Center again.
This is their website:  https://www.marchforscience.com/
---
---
---
---
The Colorado Scientific Society was founded in 1882 as a forum for the exchange of observations and ideas on the topics of earth science. Our lecture series occurs on the third Thursday of each month, from September through May. Lecture topics largely focus on earth science, and are open to the public. In addition to our monthly lecture series, the society is also active in public service. We fund student research grants, construct and post signs that describe local geologic features, and organize and lead several field trips.
---
The Colorado Scientific Society usually meets on the third Thursday of the month from September through May at The Shepherd of the Hills Presbyterian Church, 11500 W. 20th Ave., Lakewood CO
Social time is at 6:30; meeting & program at 7:00
(In the summer months of June-August, too many are off in the field.)
Map for Shepherd of the Hills
---
Corporate Sponsorship of the Colorado Scientific Society
Corporate sponsorship helps the Society continue to provide earth science-related talks, field trips, and other events to a broad cross-section of Front Range geologists and interested people. Please accept an invitation from the Colorado Scientific Society to become a corporate sponsor, enabling us to continue and expand our programs.
Details of corporate sponsorship of the Colorado Scientific Society
---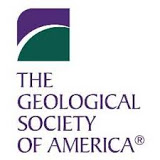 ---
We appreciate the support for our website by  Table Mountain Web Design.