Welcome to the Colorado Scientific Society
The oldest scientific society in the Rocky Mountain region
Founded in 1882, the Colorado Scientific Society promotes knowledge, the understanding of science, and its application to human needs, focusing primarily on earth science, but welcoming members with interests in all fields of science. Learn more.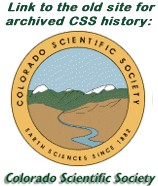 ---
We usually meet at The Shepherd of the Hills Presbyterian Church, 11500 W. 20th Ave., Lakewood CO
Social time beginning at 6:30; meeting & program at 7:00
Map for Shepherd of the Hills
---
Field Trip on the Geology of South Park on June 25th
Peter Barkmann will show new geologic findings in South Park by the Colorado Geological Survey, focusing on the area around Hartsel.  More details will be announced soon.
---
Women in Science, Geology, Oil & Gas
The Colorado Scientific Society has agreed to be a co-sponsor of a reception and talk organized by the JeffCo Innovators' Workshop, to take place at 6:30 p.m., Wednesday, June 14, at Golden City Hall, 911 10th St., Golden. The speaker will be Robbie Gries, author of the book, Anomalies: Pioneering Women in Petroleum Geology 1917-2017. Admission is free, but space is limited to the first guests who RSVP to: https://tinyurl.com/WomenPetGeol.
See Women in Geology – Innovators Workshop for details.
---
---
---
---
The Colorado Scientific Society was founded in 1882 as a forum for the exchange of observations and ideas on the topics of earth science. Our lecture series occurs on the third Thursday of each month, from September through May. Lecture topics largely focus on earth science, and are open to the public. In addition to our monthly lecture series, the society is also active in public service. We fund student research grants, construct and post signs that describe local geologic features, and organize and lead several field trips.
We appreciate the support for our website by  Table Mountain Web Design.