Welcome to the Colorado Scientific Society
The oldest scientific society in the Rocky Mountain region
Founded in 1882, the Colorado Scientific Society promotes knowledge, the understanding of science, and its application to human needs, focusing primarily on earth science, but welcoming members with interests in all fields of science. Learn more.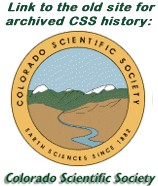 ---
January Meeting
Thursday, January 18, 2018
Two presentations this evening, both on the theme of "the human context of scientific work":
Fostering Citizen Scientists in the Remote Reaches of Colorado
Elizabeth 'Liz' Johnson,
Colorado Northwestern Community College, Craig, CO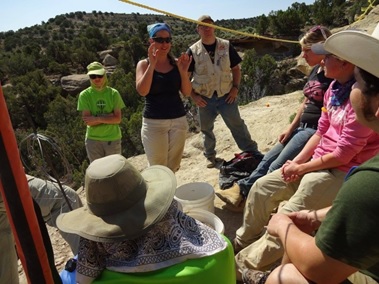 Abstract: Elizabeth 'Liz' Johnson's presentation will focus on the critical need for outreach in remote areas of northwest Colorado, not only to successfully find and extract significant paleontological specimens, but also to ignite, teach, and foster an excitement about the advances and relevancy of the scientific process to everyone. Johnson's background is in molecular paleontology – the preservation of original organic molecules in fossil bone. Utilizing her extensive interdisciplinary skill set, she currently teaches a broad spectrum of sciences at Colorado Northwestern Community College (CNCC) in Craig, CO. In 2014, she instituted a new and unique partnership between a BLM Government fossil repository and the paleontology education program at the Community College level. This collaboration is designed both to prospect, collect, and prepare specimens, and simultaneously to educate students and the public within CNCC's service area. The marvelous and scientifically important specimens currently being excavated and prepared are under study by researchers from a variety of universities and institutions. This research helps to inspire individuals of all education and age levels. Johnson has witnessed the importance of working with local communities to give citizens ownership in the scientific process. Her work and leadership have demonstrated that building strong relationships between paleontologists, ranchers, and federal officials in northwest Colorado benefits all parties.
Science With a Social Conscience: A Natural Outgrowth of Fieldwork in Remote Regions of the World
David Krause,
Denver Museum of Nature and Science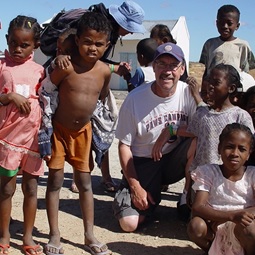 Abstract: Dave Krause's presentation will focus on field science conducted in Madagascar, one of the very poorest countries on Earth. The paleontological project that he initiated there 25 years ago focused on the collection and analysis of Late Cretaceous vertebrates, everything from fishes to dinosaurs to mammals, and their geological context. The project has yielded exquisitely preserved and complete skulls and skeletons that have allowed him and his teams to address hypotheses concerning the plate tectonic and biogeographic history of not just Madagascar but of the entire southern supercontinent of Gondwana. This research also led to interactions with various indigenous populations in remote regions of the island and the realization that field scientists, who benefit greatly from working in such areas, have the opportunity to give back and thereby make a meaningful difference in the lives of those much less fortunate. Dave will review some of his work with children, work that has had the ability to profoundly change, and even save, lives. He will conclude by attempting to extrapolate to other field sciences and other areas, emphasizing that there is much need, and therefore much opportunity to make a difference, whether it be on remote islands like Madagascar or in under-served areas in this country. Field scientists working in remote areas are, in some ways, uniquely positioned to be "first responders for science."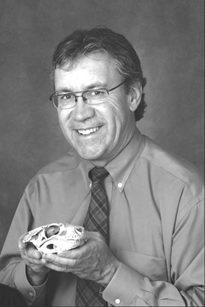 Biography: Dr. David Krause is Senior Curator of Vertebrate Paleontology at the Denver Museum of Nature and Science (Denver, CO; since 2016); Emeritus Distinguished Service Professor in the Department of Anatomical Sciences, Department of Geosciences, and Interdepartmental Doctoral Program in Anthropological Sciences at Stony Brook University (Stony Brook, NY); Research Associate of the Field Museum of Natural History (Chicago, IL); Founder and Executive Director of the Madagascar Ankizy Fund (www.ankizy.org); former Editor of the Journal of Vertebrate Paleontology (1987–1990); and former Vice President (1992–1994) and President (1994–1996) of the Society of Vertebrate Paleontology. Born and raised on a cattle ranch in southeastern Alberta, Dr. Krause received his B.Sc. and M.Sc. from the University of Alberta (Zoology) and his Ph.D. from the University of Michigan (Geology, 1982). He was also awarded a Distinguished Alumni Award from the University of Alberta in 2010 and an honorary doctorate from The University of Antananarivo (Madagascar) in 2012.
All are welcome; no admission charge.
6:30 PM, Social time
7:00 PM, Program
The Shepherd of the Hills Presbyterian Church,
11500 W. 20th Ave., Lakewood CO
Map for Shepherd of the Hills
---
Vote for Science
Last Spring the CSS took part in the March for Science in downtown Denver.  That organization has now announced a Vote For Science initiative to try to bridge the gap between advocating for science and civic engagement.  If you are interested in getting more information on this initiative and ways to educate your community and your representatives on why science and science policy matter, please go to this website:
Vote for Science
---
---
---
---
The Colorado Scientific Society was founded in 1882 as a forum for the exchange of observations and ideas on the topics of earth science. Our lecture series occurs on the third Thursday of each month, from September through May. Lecture topics largely focus on earth science, and are open to the public. In addition to our monthly lecture series, the society is also active in public service. We fund student research grants, construct and post signs that describe local geologic features, and organize and lead several field trips.
---
The Colorado Scientific Society usually meets on the third Thursday of the month from September through May at The Shepherd of the Hills Presbyterian Church, 11500 W. 20th Ave., Lakewood CO
Social time is at 6:30; meeting & program at 7:00
(In the summer months of June-August, too many are off in the field.)
Map for Shepherd of the Hills
---
Corporate Sponsorship of the Colorado Scientific Society
Corporate sponsorship helps the Society continue to provide earth science-related talks, field trips, and other events to a broad cross-section of Front Range geologists and interested people. Please accept an invitation from the Colorado Scientific Society to become a corporate sponsor, enabling us to continue and expand our programs.
Details of corporate sponsorship of the Colorado Scientific Society
---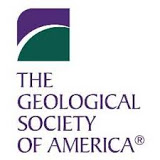 ---
We appreciate the support for our website by  Table Mountain Web Design.