Welcome to the Colorado Scientific Society
The oldest scientific society in the Rocky Mountain region
Founded in 1882, the Colorado Scientific Society promotes knowledge, the understanding of science, and its application to human needs, focusing primarily on earth science, but welcoming members with interests in all fields of science. Learn more.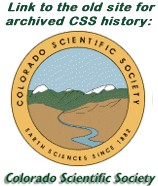 ---
Thursday, April 12, 2018
Past Presidents Dinner:
Colorado's Amazing Dinosaurs: A History of Discoveries from the Centennial State
Joe Sertich, Denver Museum of Nature and Science
Please see the menu and reservations form below! We need to have your reservation by Tuesday, April 3. Send your reservation form with a check to Colorado Scientific Society, P.O. Box 150495, Lakewood CO 80215-0495. You may email the form and reserve your place(s) by writing to Pete Modreski, pmodreski@usgs.gov, phone 303-202-4766, and sending your check to the CSS by mail or bringing it to the dinner. Dinner cost, depending on your meal and dessert choice, will range from $30 to $45 for CSS members and family, $50 for non-member guests. Mt. Vernon Canyon Club (the new name of Mt. Vernon Country Club) is located on Lookout Mountain west of Golden, reached via I-70 either from exit 256 or 254. This is an evening to honor the Past Presidents of our Society, to show appreciation for all our members, and to enjoy an evening together with friends, old and new, and colleagues. ALL CSS members and their family and friends are invited to come.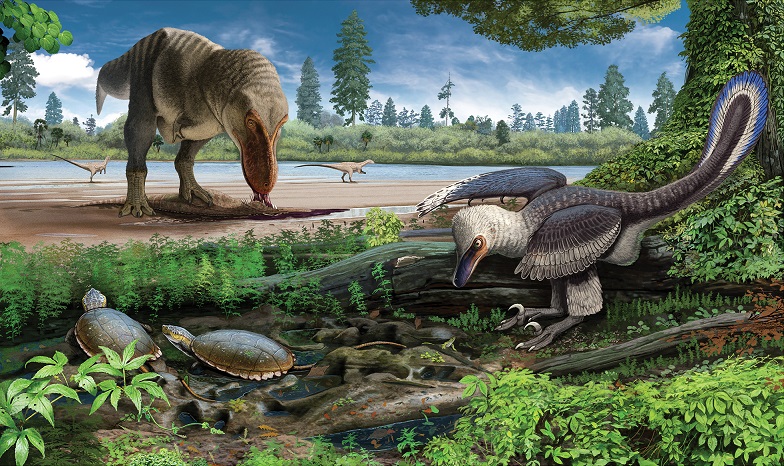 Abstract: The rich geology of Colorado captures nearly the entire evolutionary history of dinosaurs, ranging from their first appearance in the Triassic 240 million years ago to the last dinosaurs of the Cretaceous 66 million years ago. Included are the Rocky Mountain West's iconic Jurassic dinosaurs like Stegosaurus and Allosaurus, so abundant in Colorado quarries they became a target of the late 1800's "Bone Wars." Cretaceous fossils preserved across Colorado capture the height of dinosaur evolution on "Laramidia" in addition to subtropical landscapes inhabited by the last dinosaurs to walk North America, the iconic Tyrannosaurus rex and Triceratops. New discoveries from the Front Range, like the spectacular 'Thornton Torosaurus,' promise to solve recent dinosaur mysteries and have ignited a dinosaur renaissance in Denver, the only major metropolitan area where dinosaurs still lurk in backyards.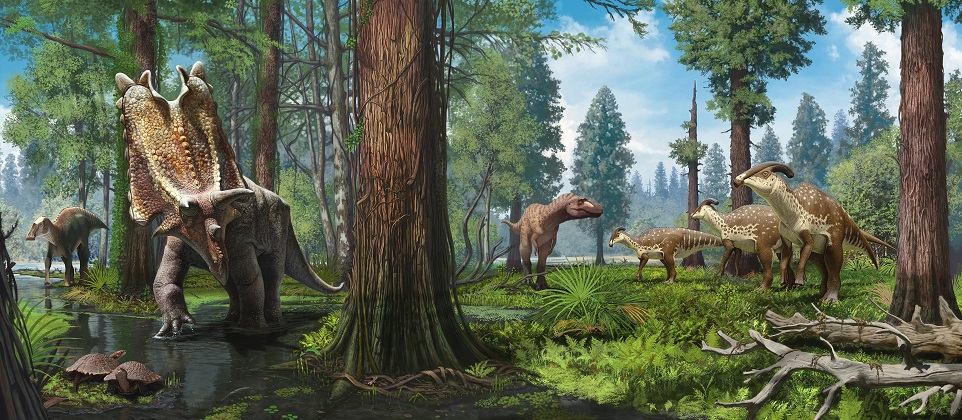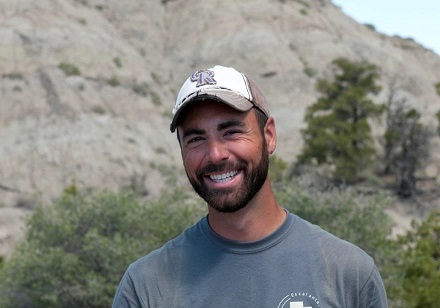 Biography: Joe Sertich is Curator of Dinosaurs at the Denver Museum of Nature & Science. He received his B.S. in from Colorado State University in 2004, his M.S. at the University of Utah in 2006, and his Ph.D. from Stony Brook University in 2011. His research focuses on dinosaurs, crocodiles, and flying reptiles, and their ecosystems, during the Late Cretaceous. His field-based research is split between the Gondwanan continents of the southern hemisphere and western North America. He is one of the primary researchers on the Madagascar Paleontology Project exploring the latest Cretaceous of Madagascar and has expanded the search for dinosaurs to older deposits across the island. He is also working on several projects searching for the first latest Cretaceous dinosaurs of Africa, including work in northern Kenya and Egypt. In North America, he leads the Laramidia Project, currently leading work to uncover a lost world of dinosaurs in the Cretaceous of Grand Staircase-Escalante National Monument, Utah, northwestern New Mexico, and northwestern Colorado.
Everyone is invited to this dinner for our 136th Anniversary at the
Mount Vernon Canyon Club (formerly Mount Vernon Country Club)
24933 Clubhouse Circle
Golden, CO 80401
(on Lookout Mountain)
Social Time 5:30
Dinner 6:00
Program 7:00
Menu for 2018 Colorado Scientific Society Past Presidents' Dinner
Reservation for 2018 Colorado Scientific Society Past Presidents' Dinner
---
Sunday, April 15, 2018
CSS Spring Field Trip
Mysterious Front Range Gravels
Cal Ruleman (USGS) and Bob Raynolds (Denver Museum of Nature and Science)
---
March Meeting
Thursday, April 19, 2018
The Role of the USGS (US Geological Survey) and CGS (Colorado Geological Survey)
Eugene (Buddy) Schweig, Director, USGS Geosciences and Environmental Change Science Center
Karen Berry, Director and State Geologist, Colorado Geological Survey
All are welcome to our meeting; no admission charge.
6:30 PM, Social time
7:00 PM, Program
The Shepherd of the Hills Presbyterian Church,
11500 W. 20th Ave., Lakewood CO
Map for Shepherd of the Hills
---
Colo. Sci. Soc. Meetings and Field Trips Coming Soon
Tuesday, May 8, 2018
Emmons Lecture:
High Drama at the Paleocene/Eocene Boundary
Climate and Biology, Perspectives from the Paleocene/Eocene Thermal Maximum (PETM) in the Bighorn Basin; Implications for Today
Will Clyde, University of New Hampshire
On the Colorado School of Mines campus
---
September 8-9, 2018; CSS Fall Field Trip
Geology of the Upper Arkansas Valley
Cal Ruleman (USGS) and Karl Kellogg (USGS, Emeritus)
In collaboration with RMAG
See all of our upcoming CSS meetings in 2018.
---
March for Science, April 14, and Vote for Science
The Colorado Scientific Society is planning to take part in the March for Science in downtown Denver again this year on April 14, 2018. We will have a table at the Denver Civic Center again. Please plan to join us.
The March for Science organization also has a Vote For Science initiative to try to bridge the gap between advocating for science and civic engagement.  If you are interested in getting more information on this initiative and ways to educate your community and your representatives on why science and science policy matter, please go to this website:
Vote for Science
---
---
---
---
The Colorado Scientific Society was founded in 1882 as a forum for the exchange of observations and ideas on the topics of earth science. Our lecture series occurs on the third Thursday of each month, from September through May. Lecture topics largely focus on earth science, and are open to the public. In addition to our monthly lecture series, the society is also active in public service. We fund student research grants, construct and post signs that describe local geologic features, and organize and lead several field trips.
---
The Colorado Scientific Society usually meets on the third Thursday of the month from September through May at The Shepherd of the Hills Presbyterian Church, 11500 W. 20th Ave., Lakewood CO
Social time is at 6:30; meeting & program at 7:00
(In the summer months of June-August, too many are off in the field.)
Map for Shepherd of the Hills
---
Corporate Sponsorship of the Colorado Scientific Society
Corporate sponsorship helps the Society continue to provide earth science-related talks, field trips, and other events to a broad cross-section of Front Range geologists and interested people. Please accept an invitation from the Colorado Scientific Society to become a corporate sponsor, enabling us to continue and expand our programs.
Details of corporate sponsorship of the Colorado Scientific Society
---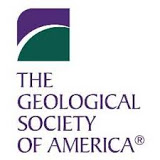 ---
We appreciate the support for our website by  Table Mountain Web Design.