Welcome to the Colorado Scientific Society
The oldest scientific society in the Rocky Mountain region
Founded in 1882, the Colorado Scientific Society promotes knowledge, the understanding of science, and its application to human needs, focusing primarily on earth science, but welcoming members with interests in all fields of science.  Learn more.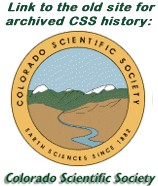 ---
 December 21, 2016 Meeting & Potluck
President's address on New Colorado Geologic Survey studies in South Park, preceded by our Holiday Potluck
Our President, Peter Barkmann, will give a talk about the new geologic studies in South Park that he and other Colorado Geological Survey staff have been conducting during the past year.  We'll have an exact title for Peter's talk in the December newsletter, out by early December.
All are welcome – no admission charge
We start setting up the Potluck at 5:00, meeting at 7:00

The potluck & meeting will begin at 5 p.m. on December 21, with the program to commence around 7 p.m.  Of course, all are welcome to take part in the potluck supper, or if you cannot make it early for the dinner, to just come to hear Peter's talk (we are sure there will still be plenty of food available to share with anyone who comes–and beer, as well).  Linda Barton Cronoble will coordinate the food that people will bring for the potluck, and we'll be including full details about these plans in our coming newsletter.
Meet at the Arbor House, in Maple Grove Park, 14600 W. 32nd Ave., Golden (in the Applewood/Mountair area, between I-70 and McIntyre St.).  This is the same location at which we held our Student Night program, in September.
_________________________________________________________________________
November 17, 2016 Meeting
Relict Dinosaurs of Madagascar: New Discoveries from Treasure Island
by Dr. Joe Sertich, Curator of Vertebrate Paleontology, Denver Museum of Nature and Science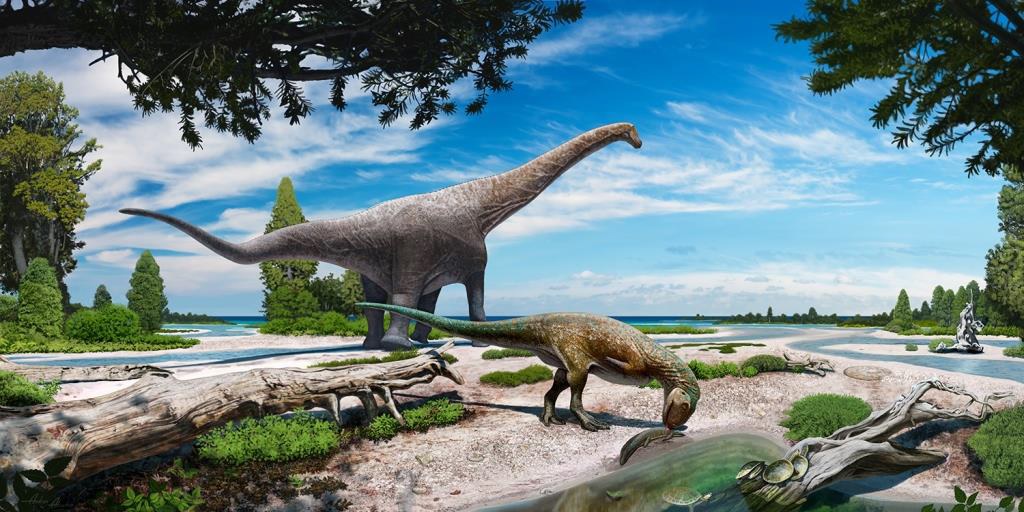 Astract: Ongoing fieldwork on the island of Madagascar over the past 23 years has revealed a stunningly preserved assemblage of dinosaurs and other animals from the Cretaceous, arguably one of the best dinosaur ecosystems ever collected from the southern hemisphere. Historic expeditions, together with recent fieldwork in 2015, have uncovered a fantastic new story of isolation and bizarre evolution on the island landmass. Despite the many trials and pitfalls of mounting expeditions to Madagascar, one of the most remote and biodiverse places on Earth, paleontologists continue to be rewarded with spectacular fossils of bizarre crocodiles, strange birds, giant frogs, and dinosaurs. New and continuing work to uncover the origins of these beasts, together with the move of these fossils and research responsibilities to the Denver Museum of Nature & Science, have placed Colorado at the center of paleontological investigations into the island of Madagascar.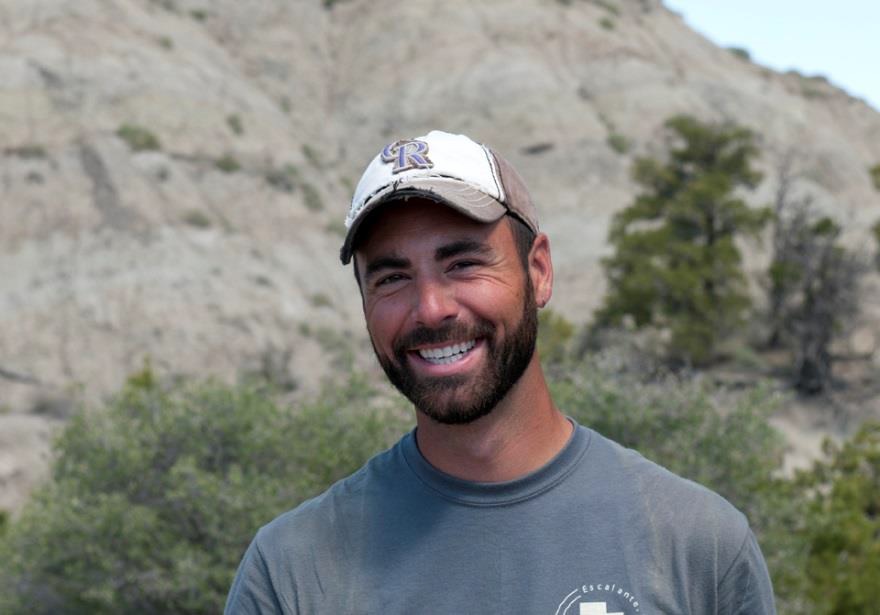 Biography: Joe Sertich is Curator of Dinosaurs at the Denver Museum of Nature & Science. He received his B.S. in from Colorado State University in 2004, his M.S. at the University of Utah in 2006, and his Ph.D. from Stony Brook University in 2011. His research focuses on dinosaurs, crocodiles, and flying reptiles, and their ecosystems, during the Late Cretaceous. His field-based research is split between the Gondwanan continents of the southern hemisphere and western North America. He is one of the primary researchers on the Madagascar Paleontology Project exploring the latest Cretaceous of Madagascar and has expanded the search for dinosaurs to older deposits across the island. He is also working on several projects searching for the first latest Cretaceous dinosaurs of Africa, including work in northern Kenya and Egypt. In North America, he leads the Laramidia Project, currently leading work to uncover a lost world of dinosaurs in the Cretaceous of Grand Staircase-Escalante National Monument, Utah, northwestern New Mexico, and northwestern Colorado.
All are welcome – no admission charge
Social Hour starts at 6:30, meeting at 7:00

Shepherd of the Hills Presbyterian Church
11500 W. 20th Ave., Lakewood CO
Map
---
---
The Colorado Scientific Society was founded in 1882 as a forum for the exchange of observations and ideas on the topics of earth science. Our lecture series occurs on the third Thursday of each month, from September through May. Lecture topics largely focus on earth science, and are open to the public. In addition to our monthly lecture series, the society is also active in public service. We fund student research grants, construct and post signs that describe local geologic features, and organize and lead several field trips.