Welcome to the Colorado Scientific Society
The oldest scientific society in the Rocky Mountain region
Founded in 1882, the Colorado Scientific Society promotes knowledge, the understanding of science, and its application to human needs, focusing primarily on earth science, but welcoming members with interests in all fields of science.  Learn more.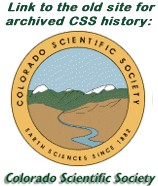 ---
January Meeting, Thursday, Jan. 19, 2017, 7:00 p.m.
Shepherd of the Hills Presbyterian Church, 11500 W. 20th Ave., Lakewood CO
Social time beginning at 6:30; meeting & program at 7:00
An Arctic Perspective on 20th Century Warming
Dr. Gifford Miller
INSTAAR and Geological Sciences
University of Colorado, Boulder
Abstract: As the planet has warmed over the past century, Arctic temperatures have increased at 2 to 3 times the global rate, with documented reductions in sea ice, glacier size, and snowcover, reflecting the strong positive feedbacks operating in the polar regions. However, the extent to which recent Arctic warming has been anomalous with respect to long-term natural climate variability remains uncertain. We use radiocarbon measurements on rooted tundra plants exposed by recent ice-cap retreat to provide a millennial perspective on summer temperature change. Over 300 14C dates on plants entombed beneath ice in Arctic Canada demonstrate that 5000 years of regional summertime cooling has been reversed, with 100-year average summer temperatures now higher than during any century in more than 45,000 years, including peak warmth of the early Holocene when solar energy in summer was 9% greater than present. Our results suggest that anthropogenic increases in greenhouse gases have led to unprecedented Arctic warmth, with implications for lower latitudes through sea-level rise and changes in Northern Hemisphere atmospheric circulation.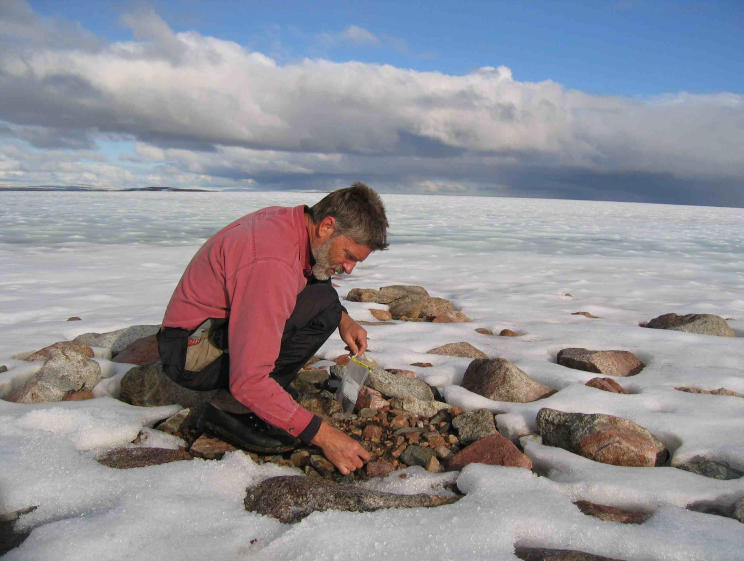 Biography: Gifford Miller is Professor of Geological Sciences and Fellow of the Institute of Arctic and Alpine Research (INSTAAR) at the University of Colorado, Boulder, where he also serves as Associate Director. His research focuses on utilizing the record of the recent geological past, primarily in hot and cold deserts, to gain a better understanding of Earth's climate system, and the role of humans in the Earth System. He has long-standing research programs in the Eastern Canadian Arctic, Australia, Iceland, and Svalbard.
He focuses primarily on the Late Quaternary, with a goal of gaining a better understanding of Earth's climate system. His early research was dominantly in the cold deserts of the Polar Regions, with current field projects in the Eastern Canadian Arctic, Svalbard, Iceland and West Greenland, where his research group focuses on abrupt climate change and placing current summer warming in a millennial perspective. In mid-career Miller became interested in hot deserts and monsoon systems while working in North Africa. He has focused on the Australian Summer Monsoon, causes of megafaunal extinction and the footprints of human colonization in Australia for the past 25 years. Recently, his research group expanded the megafuanal extinction work to Madagascar, where he is evaluating the extinction of the Elephant Bird, Aepyornis.
---
---
---
---
The Colorado Scientific Society was founded in 1882 as a forum for the exchange of observations and ideas on the topics of earth science. Our lecture series occurs on the third Thursday of each month, from September through May. Lecture topics largely focus on earth science, and are open to the public. In addition to our monthly lecture series, the society is also active in public service. We fund student research grants, construct and post signs that describe local geologic features, and organize and lead several field trips.