All are welcome – no admission charge
Social Hour starts at 6:30, meeting at 7:00
Meetings are normally at:
Shepherd of the Hills Presbyterian Church
11500 W. 20th Ave., Lakewood CO
Map
---
Attend the Colorado Scientific Society Past Presidents Dinner,
Wednesday, May 10, 2017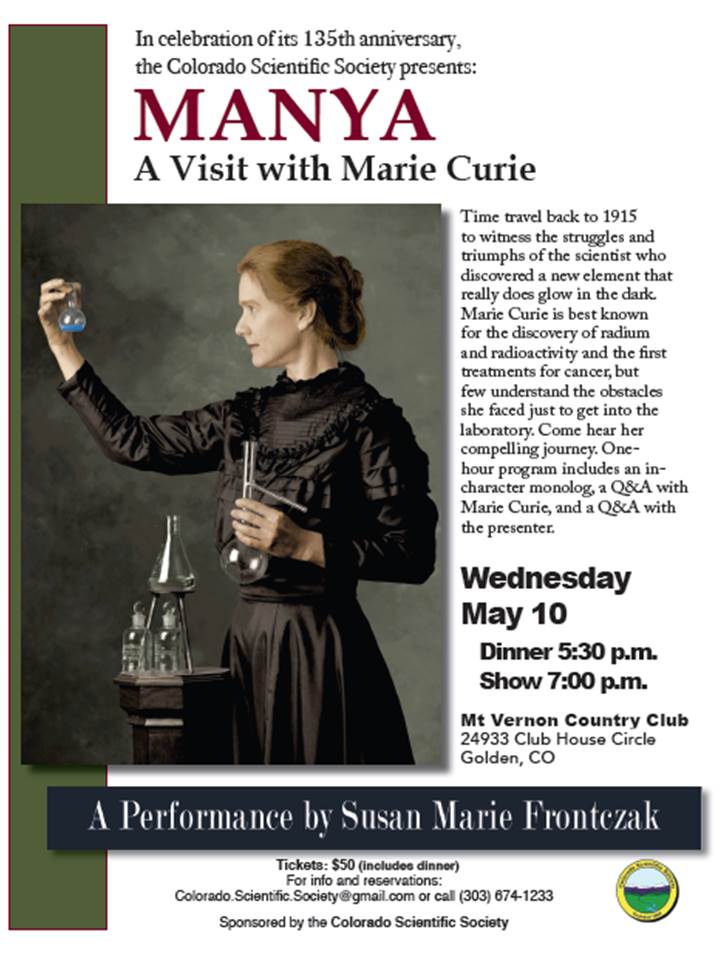 See more details about the dinner and make your reservation now.
---
May Meeting (Emmons Lecture), Thursday, May 18, 2017
Too Warm, Two Poles: How Past Interglacials Should Inform Future Coastal Adaptation
Julie Brigham-Grette, University of Massachusetts- Amherst
7:00 pm, at the American Mountaineering Center Auditorium, 710 10th St., Golden.
No charge and all are welcome.
Abstract
Glacial and interglacial change uniquely imposed on the Bering Strait region some of the most radical changes in sea level and paleogeography documented in the Northern Hemisphere. Following the transition from a forested Arctic 3 million years ago and the first major glaciation of the northern hemisphere about 2.6 million years ago, marine deposits found along the coasts of Alaska and elsewhere record critical transitions in the evolution of Earth's climate but especially times of high sea level. Geologic records of Plio-Pleistocene super interglacials from both the Arctic and the Antarctic show us that ice sheets are more vulnerable to subtle polar warming than once thought. Given that sea level rise today and into the near future is global and not reversible, new approaches will require social and political action aimed at short-term fixes and long-term "managed retreat" of human infrastructure from our coastlines.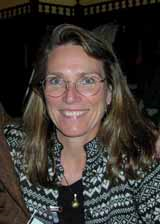 Biography:
Dr. Julie Brigham-Grette is professor in the Dept. of Geoscience's Climate System Research Center at Univ. Massachusetts – Amherst. She graduated from Albion College and completed her M.S. and Ph.D at the University of Colorado, with post-doctoral work at the University of Bergen, Norway, and the University of Alberta, Canada.  Julie's research interests are focused on the stratigraphy, sedimentology, and chronology of geologic systems that record the climate evolution and sea level history of the Arctic since the mid-Pliocene.  Most of her research program is aimed at documenting the global context of paleoenvironmental change across "Beringia", stretching from Alaska and the Yukon across the Bering Sea into Russia.  She was co-chief scientist of an expedition to Lake El'gygytgyn in northeast Russia that recovered an unprecedented core record of paleoclimate of the past 3.6 million years.
---
See Abstracts (under Events) for previous Colorado Scientific Society Talks
---
Remaining Colorado Scientific Society Talks in 2017
Mqy 10, 2017
Colo Scientific Society Past Presidents Dinner
Manya, A Visit with Marie Curie
a reenactment by Susan Marie Frontczak
May 18, 2017,  (Emmons Lecture)
Too Warm, Two Poles: How Past Super Interglacials Should Inform Future Coastal Policy
Julie Brigham-Grette, University of Massachusetts-Amherst
Sept. 21, 2017
Student papers and poster exhibits
Oct. 19, 2017
Using Geoscience to Augment Environmental Public Health Studies
Suzette Morman, Crustal Imaging and Characterization, USGS
Nov. 16, 2017 (speaker & title TBA)
Planned: a talk on some aspect of planetary geology
Dec. 21?, 2017
Colorado Scientific Society President's address
Marith Reheis, Emeritus USGS
---
All are welcome – no admission charge
Social Hour starts at 6:30, meeting at 7:00
Shepherd of the Hills Presbyterian Church
11500 W. 20th Ave., Lakewood CO
Map